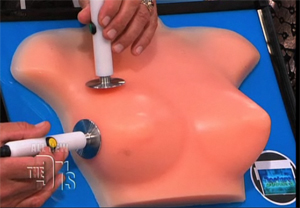 Dr. Drew Ordon demonstrates CACI treatment

Image Courtesy of www.thedoctorstv.com



Women looking for a little more in the bust now have a non-surgical option to give them larger breasts without going under the knife. Known as the CACI treatment, this temporary procedure gives women bigger breasts by electrical stimulation, simulating breast augmentation results.

As Dr. Drew Ordon explains today on The Doctors, electrodes are placed on the breasts, one up above near the pectoralis major muscle and one on the side. These send an electrical current to the muscle causing it to tighten. Fibers connecting to the muscle tighten as well, giving the breasts a lifted, fuller appearance.

The procedure only takes about 15 minutes and many patients report that it's pain free. Results last for just a short time, about 3-5 days and patients can expect to see 1-2 additional inches. Dr. Ordon points out that for women who have sagging breasts, the CACI treatment won't provide much improvement. The best candidates are those who don't have very large breasts to begin with and whose breasts are fairly firm.