Chris Bloom, RN, BSN
Kenosha, WI 53144
2.14 miles
More information
Bela Glantsman, MD
Mundelein, IL 60060
23.90 miles
More information
Dr. Nader Aziz
Barrington, IL 60010
30.87 miles
More information
Dr. Deborah Manjoney
Pewaukee, WI 53072
39.72 miles
More information
Stefan Szczerba MD
Rosemont, IL 60018
39.66 miles
More information
Andrew C. Campbell, M.D.
Mequon, WI 53092
44.15 miles
More information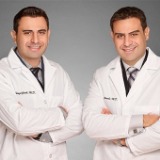 Nael Gharbi, MD
Shazel Gharbi, MD
Chicago, IL 60610
47.68 miles
More information
Jeffrey Sabatino, MD
Germantown, WI 53022
46.56 miles
More information
Dr. Neema Bayran
Chicago, IL 60622
47.97 miles
More information
Dr. Mary Pritikin
Chicago, IL 60602
49.40 miles
More information
People researching Exilis frequently inquire about these popular procedures available in your area:
BodyTite (4)
EmbraceRF (1)
FaceTite (5)
Morpheus8 (1)
Pelleve (14)
Profound Lift (9)
Skin Tightening (83)
SkinTyte (19)
TempSure Envi (1)
Thermage (10)
ThermiSmooth (13)
ThermiTight (14)
Titan (3)
Venus Legacy (6)
About Exilis
The Exilis uses monopolar radio frequency (RF) energy to reach into multiple levels of skin to treat different symptoms. A dual pulse delivers controlled energy to promote collagen remodeling and skin tightening.