Do you use Skype or other online video tools? Find yourself straightening your neck or protruding your chin a little while looking at yourself? Some experts are saying that the rise in online video chat is connected to the increase in demand for Chin Augmentation and Neck Lifts.

Experts in Hollywood typically cast men with "strong jaws" and "well defined chins" for their hero roles. But as the aging Baby Boomer matures, the defined chins are transforming into turkey necks and many are seeking cosmetic surgery for this dilemma.

One cosmetic surgeon performs lunchtime neck lifts in Newport Beach California is using SmartLipo to perform a minimally invasive neck lift. For some, the turkey neck is an accumulation of fat which needs to be removed to define the neck. Ideal for delicate areas such as the neck, Smartlipo offers physicians and patients alike benefits that include local anesthesia and less downtime. The procedure takes approximately one and a half hours and it may be performed as an out-patient procedure. Dr. Thomas Barnes has performed this Lunchtime Neck Lift on the Doctors TV Show, The Today Show and on KTLA.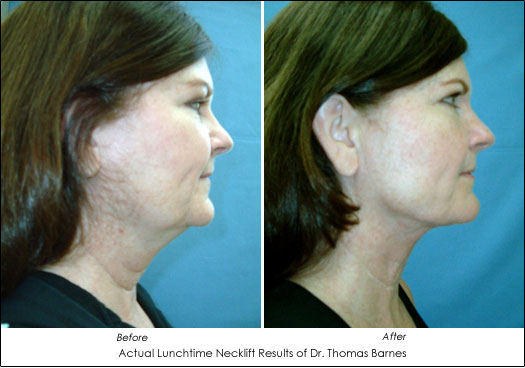 Actual Results of Lunchtime Neck Lift with Smartlipo by Dr. Thomas Barnes



During the procedure, the patient can remain awake, as only local anesthesia is needed for numbing. "Using SmartLipo laser liposuction, I can remove a little fat and actually help heat the tissue so it shrinks down," says Dr. Barnes. He says that most patients are able to return to work the next day. "In just a few days, patients can be back on the beach or skiing or doing whatever looking 10 years younger."